There are numerous yoga props used – from a yoga mat, down to a bolster, or a meditation pillow. But, there is one prop that can substitute all of them. The yoga blanket is the most versatile prop used in yoga.
Your options for a yoga blanket are countless – different sizes, colors, materials, designs, etc.
To help you in your hunt for the best yoga blanket, I've made this guide and product review article. Read on and find out what you need to consider when buying your new yoga blanket.
What's the Yoga Blanket?
As you might know, a blanket is a slim piece of fabric with a medium thickness and usually, just one layer. A yoga blanket is a similar piece of fabric, a little bit thicker than a standard blanket, and suitable for rolling and folding. A yoga blanket is used for covering during meditation or relaxation in yoga or as support during asanas.
In the past, blankets were used laid on the floor instead of a yoga mat, so its usage is not new. Nonetheless, today we have yoga mats, so the primal usage of a yoga blanket is to support and warm the body. For practitioners with limited flexibility, it helps to cushion and support body parts during certain asanas. During Savasana (relaxation) it can provide additional warmth.
Another useful usage of a yoga blanket is that, folded, it can be used to replace common yoga props such as blocks or bolsters. During meditation, it can also serve as a meditation pillow.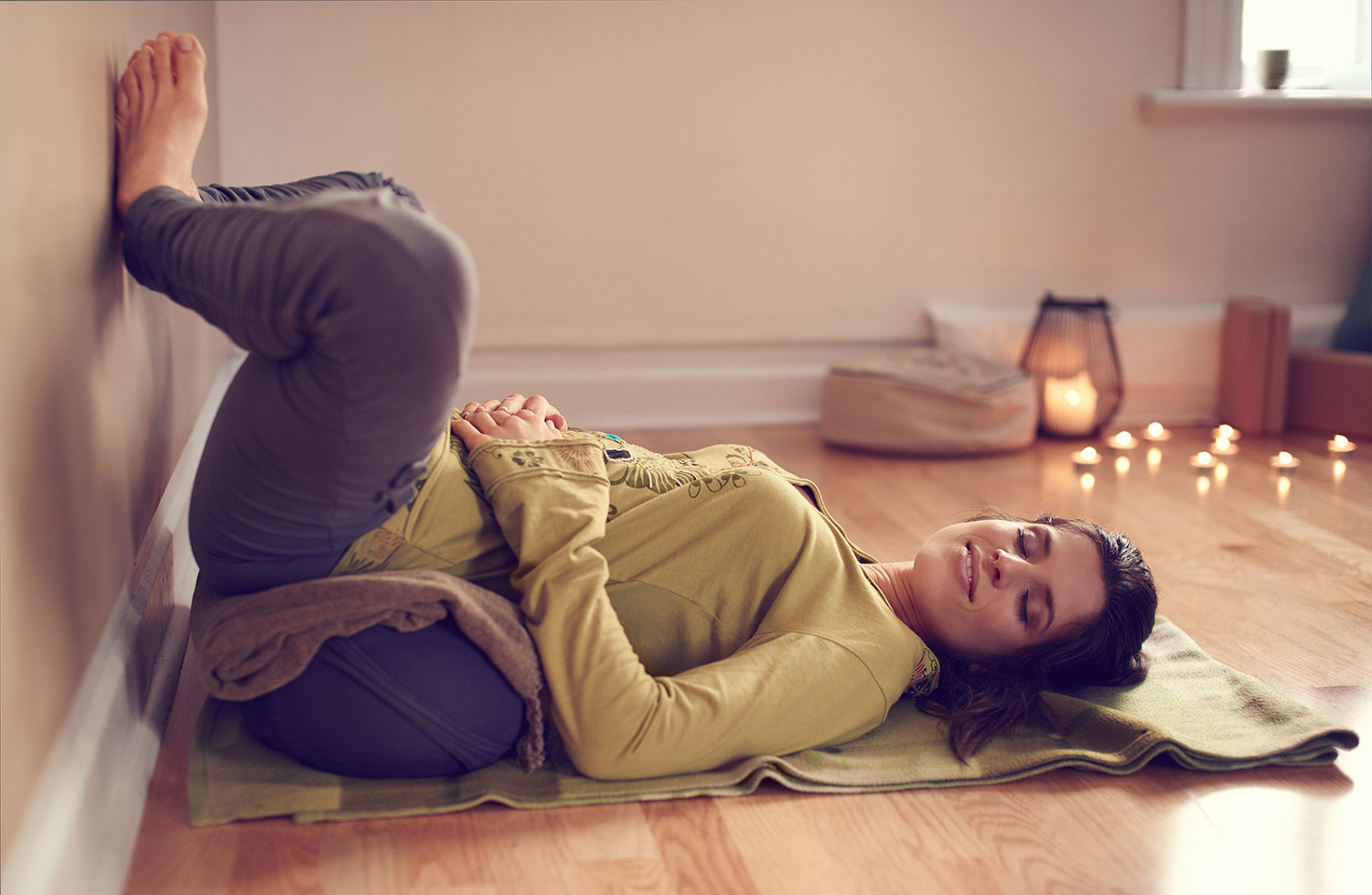 What to Look for in a Yoga Blanket?
If you aren't sure about what to look for in a yoga blanket, this next section comes to the rescue. Yoga blankets today vary in a lot of aspects such as material, size, thickness, durability, versatility, and design.
The most important aspect for these is down to you. For some practitioners, the most important thing is to have a soft material, while for others it's the design they can use as a home décor too. So, you decide what you value in a blanket, but keep all these in mind when you buy your next yoga blanket.
Material
Yoga blankets are made from different materials. They include cotton, wool, synthetic fibers, or a combo of these all. When you choose materials, consider the type of yoga you practice, the local climate, and the desired support you need.
Wool is durable, sweat, and moisture resistant. Due to its density, it has firm support, suitable for newer yogis. Wool is also more sustainable than cotton, since sheep shred multiple times during a season.
Negative sides of wool include piling of the fibers with washing and its warmness. So, if you live in a warmer climate, a wool blanket might be too much for you during the summer season.
Cotton is also durable, and frankly, quite accessible. Cotton yoga blankets are very common due to the softness of the material. Compared to wool, it's quite less dense and supportive, so it's a perfect option for yogis that need only a little bit of support.
Negative sides of cotton include its unsustainability (it requires big fields with a lot of workforce) and its proneness to shrinking with washing.
Synthetics like polyester and acrylic are also quite popular, due to their affordability. Most of the time they are also done from recycled materials, so they are a suitable option for sustainability-prone yogis.
But, synthetics can also contain microplastics and have a certain chemical smell, especially when new.
Size
Another important aspect is the blanket's size. Naturally, a bigger size is always better than a small one. One good way to measure the size of the yoga blanket you need is to make sure it covers your body in its entirety during Savasana.
For most yoga practitioners, a standard twin-size blanket is a good size. But, there are longer sizes too. So, if you need the blanket for rolling and support, you might need a bigger one.
Thickness
The third aspect of a yoga blanket is its thickness. Thick yoga blankets are usually made from wool. But, a woolen blanket can be very warm during practice for people situated in warmer climates.
Cotton-based yoga blankets are slimmer. If you want the softness of cotton, but the thickness of wool, you can go for a bigger size blanket and not unfold it completely.
Synthetic fibers come in all sizes and thicknesses. So, if you do decide to go with a blend, make sure that you choose a size that will allow you to fold it completely and get enough spine, back, or leg support. 
Durability
For some people, durability is very important. Synthetics are known to be the most durable, but you might end up with an unnatural feel. Wool is the second best, but it is prone to piling with time, usage and washing. Cotton blankets are the least durable since they can shrink with washing, especially in warmer temperatures.
As always, you have to give something to get something. Most of the time durability depends on the manufacturing technique too, so you can't be sure that you're buying a durable yoga blanket, no matter the material or the price.
Versatility
When we talk about versatility, we think about all the possible ways you can use the blanket you go for. For example, you want your blanket to be suitable for both covering during Savasana, and rolling during other asanas where you need body support.
Furthermore, a lot of yoga practitioners use their blankets as home décor when not practicing. This is a great way to get the most out of a blanket, and not use it only for one or two days a week.
Design
With versatility, the design comes to mind. Some yoga practitioners want blankets whose color and textile are similar to the rest of the props they use (their bolsters or leggings). For other people, since they also use the blankets for decorating their living room couches, they need the blanket to be in line with their living room color scheme. For a third group, it's important for the design to promote a meditative state and symbols, or to be two-faced.
Baseline – you can choose the design you want. But, don't make design your primal decision-making aspect. No matter the design, some blankets are naturally better for using during yoga, while others are just better off lying on your couch and brightening your living room. If you have the right thickness, size, and material, the design comes only as a plus.
10 Best Yoga Blankets Review
To help you in your decision for a new yoga blanket, I've made this 10 best yoga blankets review. I've divided them into 4 categories – the best Mexican blankets, the best cotton, and the best wool yoga blankets.
Hopefully, they will help you make a better decision from the vast availability of yoga blankets out there.
Best Mexican Yoga Blankets
The first place on our list gets the Benevolence Mexican Blanket. It's handmade, hypoallergenic and made from completely recycled materials. It's long enough for Savasana, and sturdy enough to support you during poses. Unfortunately, they only have one color, so you either love it or hate it.  
Key Features:
Material: 100 Recycled Acrylic
Size: 50" x 80"
Weight: 3 pounds
Feature: Handwoven, Soft
Colors: Multi-colored
Pros:
Hypoallergenic
Soft
Multicolored
Recycled materials
Machine washable
Cons:
Might shed once washed
It might leave lints
It's too thin for some users
Only one color set
Open Road Goods yoga blankets are handwoven in Mexico. Unfolded, it's the perfect size for Savasana, even for bigger practitioners. The blanket itself can have numerous usages, and since it's sturdy, you can use it as a picnic blanket or outdoor yoga mat. If you are an adventurous type, it's also perfect for camping.
Key Features:
Material: Acrylic, polyester, cotton
Size: 78″ x 52″
Feature: Hand-woven, Big size
Colors: 10 colors available
Pros:
Eco-friendly & sustainable material
Hand made
Comes in different colors
Machine washable
Big size
Soft & thick
Cons:
Colors might vary from the ones advertised
Too big for some users
Has tassels that are uncomfortable during practice for some users
The Tranquil boho blanket is reversible with beautiful mandala designs on both sides. Its versatile design makes it one of the best yoga blankets that can be repurposed as a tapestry, outdoor yoga mat, or a couch throw over.  If looks are important to you, this surely is a design that will leave you breathless and motivate you to get on that mat.
Key Features:
Material: Polyester and cotton
Size: 52" x 70"
Feature: Reversible Mandala design
Colors: Blue and White front, Grey and Pink back
Pros:
Reversible
Can be used as a tapestry or a throw
Comes with a guarantee
Cons:
Not pure cotton
Colors might vary from the pictures
Has tassels that might interfere with the practice
Best Cotton Yoga Blankets
The Demmex Cotton Diamond weave blanket has the GOTS and OEKO-TEX certificates, so is completely organic, with natural dyes. It's a perfect option for people who don't like or are allergic to synthetics. Turkish cotton, and their bath towels are known for their softness and beauty. The blanket follows those standards, so you're getting your moneys' worth.
Key Features:
Material:  100% Organic Turkish Cotton
Size: 71" x 36"
Feature: All organic
Colors: 17 colors available
Pros:
Turkish quality of organic cotton
Completely organic
Densely weaved
Multi-use
Cons:
Knotted tassels that might be uncomfortable during practice
Might shed due to natural fiber
Easily soaked 
Might not be wide enough for some users
The Halfmoon cotton yoga blankets are in the higher end of the price range, but they are made from pure cotton in India. It can be perfect for support during asanas instead of a bolster or a meditation pillow, but it's too light and doesn't keep practitioners warm during Savasana. It has nice boho shades that make it perfect as a blanket throw when not used as a yoga blanket.  
Key Features:
Material: Cotton
Size: 60" x 80"
Weight: 2.7lbs
Feature: Pure Indian Cotton, Handmade
Colors: 4 pastel colors
Pros:
Very soft
Big size
Machine washable
Multiple uses
Sturdy when folded
Cons:
It might shed from washing and leave lints
It's not warm enough for some users
Too sturdy for some practitioners
Some users report some unpleasant smell once unpacked
The Kakaos yoga blanket is handmade of 100% cotton, so it's very soft to the touch. Talking about a versatile blanket – this is the one you need. It can be used as a couch throw, extra covering in cold weather, or the perfect gift for a friend.
Key Features:
Material: 100% Clean Cotton
Size: 60" x 80"
Weight: 3 pounds
Feature: Extra soft with plush feeling, handmade
Colors: 4 colors – Terra Cotta, Aqua Green, Natural, and Purple
Pros:
Very soft
Solid, bold colors
Machine washable
Warm
Tightly weaved
Cons:
It's possible to pill
Not thick enough for some people
Doesn't provide enough support for some practitioners
The Lotuscrafts is one of the best producers of natural, organic yoga accessories. Their blankets are made from organic cotton and are super soft and comfortable. Their colors have a beautiful boho and Indian vibe, so they are perfect as living room décor when not in use.
Key Features:
Material: Organic Cotton
Size: 78" x 59"
Weight: 2.2 lbs
Feature: Super soft and organic
Colors: Bordeaux, White, Grey, Blue, Purple
Pros:
Super soft and skin-friendly
Right size when folded for meditation
Big size for Savasana
Available in neutral, solid colors
Cons:
Might be too thin for some practitioners
Might pill with washing
Might not provide enough cushioning
Best Wool Yoga Blankets
The Ruth&Boaz ethnic Inka yoga blanket is not completely made out of wool, and that can be a benefit since it's not as warm as other wool blankets and it's softer to touch. It has a colorful Inca pattern, so you're basically getting a combo of a Mexican and woolen blanket. They are also suitable for warming up on cold evenings, or as coverings during camping.
Key Features:
Material: 20% wool 80% polyester
Size: 3 sizes: 59″ x 54″; 58″ x 81″; 59″x 100″
Weight: 2.2lbs, 3.3 lbs, 3.6 lbs
Feature: Warm, Ethnic, 3 sizes available
Colors: 5 colors available – Grey, Mustard, Orange, Pink, Purple
Pros:
Machine washable
Warm
Combo of wool and polyester
Soft to the touch compared to pure wool
Nice, ethnic colors and patterns
Multi-purpose
Available in 3 sizes
Cons:
Too thick for practitioners from warmer climates and seasons
Too sturdy for some users
Manduka is known for its yoga accessories made from recycled materials. And, the Wool blanket is not an exception. Made from 75% wool and 25% synthetic fibers, it's perfect for users that require warmth during Savasana. Yes, you do pay for quality by getting this blanket, but you might not be impressed with its dull gray color.
Key Features:
Material: 75% Recycled wool and 25% Recycled synthetic fibers
Size: 82" x 60"
Feature: Dense weave, Stretch resistant
Colors: Grey only
Pros:
Warm
Recycled materials
Stitched edges to prevent pilling and stretching
Multipurpose
Cons:
Comes in only one color
Might be itchy for some users with sensitive skin
Some users report an unpleasant smell
Might be too thin for users that need more support during poses
The EKTROS wool blanket is multi-purposeful. I've added it to the list for practitioners that need an extra warm and thick blanket. It comes in 4 dark, but solid colors and it's bigger than almost all of the other blankets on our list. It's cheaper than the Manduka blanket, but it does have the same dull color options.
Key Features:
Material: 90% Wool / 10% Polyester
Size: 90″ x 66″
Feature: Static resistant, Multi purposeful
Colors: Olive Green, Brown, Gray, Navy
Pros:
Can be used both indoors and outdoors
Good for warmth and great support
Regulates the temperature
Static resistant
Without chemical dyes
Provides support during yoga poses
Cons:
Might be scratchy for some users with sensitive skin
Some users report some unpleasant odor
Might shed with washing, especially on faster cycles
How to use a Yoga Blanket?
Yoga blankets can be used in multiple ways.
One of the most famous usages of yoga blankets is during Savasana i.e. relaxation pose. Once you lay flat on your back, you can cover yourself (or just the cold body parts) and provide warmth and comfort for yourself.
Also, you can roll your yoga blanket and use it instead of a bolster, as a support for different body parts during different poses. Take a look at this Youtube video from the "Yoga with Uliana" channel. There you can see numerous usages of a yoga blanket during yoga poses.
If you do decide to practice outside, you can use your blanket instead of a yoga mat. If yoga mats get dirty, it might be harder to clean them. A blanket on the other hand can be machine washed. Also, mats are prone to ripping, while blankets are not.
Last, but not least, you can use yoga blankets during meditation, as a butt and spine support. Some people prefer to have blocks, bolsters, or pillows, but on some occasions, a blanket can replace them all.
How to Clean and Store a Yoga Blanket?
The cleaning of a yoga blanket mostly depends on its materials. So, the best thing to do is to carefully read the cleaning and washing instructions given by production companies. Most yoga blankets need to be washed on a gentle cycle in lukewarm or cold water. It's not recommended to put them in a dryer, so the best way to dry them is to leave them in the sun. Some yoga blankets can also be dry washed.
When you don't use your blanket, you have a couple of options for storing it. For one, you could fold it and keep it with the rest of your blankets. If so, make sure that it's nicely stored, without any possibility of dust getting on it. The other option would be to display it somewhere; either as a tapestry or as a living room couch throw. If this is how you keep your blanket, be sure to regularly dust it off, since you might get an allergic reaction the next time you put your head on it during practice.
Make sure that you never fold and store your yoga blanket while still damp. Wet surfaces are suitable for fungi and bacteria growth.
Conclusion
There are hundreds of yoga blanket producers, each with both benefits and drawbacks. With countless options, it's easy to get lost in the search and end up with a yoga blanket that doesn't fit your needs.
I hope that this yoga blanket product review article helped you decide what it is that you need.
If there is anything I left out, or if you do want to share some of your personal experiences with yoga blankets, feel free to do so in the comment section. I would love to get in "touch" with your favorite yoga blanket (pun intended).