Yoga blocks are an important part of yoga classes. They allow you to maintain a good balance and prolong your pose. In this article, I am going to show you how to pick a yoga block that meets your needs. 
I also included a list of the best yoga blocks to choose from, so make sure to read till the end. Let's get right into it!
What are Yoga Blocks?
A yoga block is a rectangular piece of cork, foam, or wood that helps you in practicing yoga. In most cases, you use these blocks as props for support.
They come in three various levels: low, medium, and high, and you can use them to customize your fit to the pose you are going to perform.
Generally speaking, you can either use a single block or stack a couple of them together, all depending on how difficult the yoga pose is.
They are usually around 1 to 2 inches thick.
So, Who Can Use a Yoga Block?
Well, they are used by most yogis, whether they happen to be beginners or advanced. But, of course, not all yogis know how to use them well. For instance, beginner yogis might use them to simply provide support to the back, waist, and head to stay more balanced and focused.
Experienced yogis, however, can use these blocks for more professional tactics, such as using them as an arm extension.
They were first popularized in the 1970s by B.K.S Iyengar, the founder of Iyengar yoga, who was one of the world's first yoga teachers.
The first yoga block ever was made of wood, and some are still made of wood, but which block is the best is simply a matter of personal opinion.
Types of Yoga Blocks
1. Cork yoga blocks
They provide a little extra grip, which is useful in hot yoga where the hands can become sweaty and slip. Cork yoga blocks are often softer than wood and heavier than foam, which is why beginner yogis love them. They also have a longer lifespan than foam blocks and are, of course, environmentally friendly.
2. Foam yoga blocks
They are certainly the softest and lightest of all the yoga blocks. Some yogis prefer this because it provides them with more flexibility and support, especially when used in poses such as the extended cobblers pose.
So, a foam block under the back or under the neck is significantly more comfortable and supports your back very well as it moves along.
3. Wood yoga blocks
Solid wood was used to make the first standard yoga blocks! Today, they are made of bamboo wood, which makes them more sustainable and environmentally friendly, as well as softer than other yoga blocks.
Because of how thick they are, you would want to avoid them as a beginner yogi or for usage in restorative poses.
What're the Benefits of Yoga Blocks?
1. Prevent injury
Yoga blocks can actually relieve your pectoralis major and minor muscles.
They allow you to relax and enhance thoracic spine extension. Thanks to this, the blocks will increase your flexibility and thus protect you against potential injuries when exercising. So, if you are a beginner, these blocks are absolutely a must-have.
2. Add length
One of the most basic roles of the yoga block is to shorten the distance between you and the ground. Yoga blocks can do exactly that. Moreover, they will ultimately make your yoga poses easier to do.
For instance, if you can't reach your toes in the "Forward Fold" pose, placing your hands on the yoga block will actually relieve the strain on your lower back by shifting some of your body weight to your hands.
It will make your life easier especially if you are someone who is shorter than 5.2 or 5.4 feet.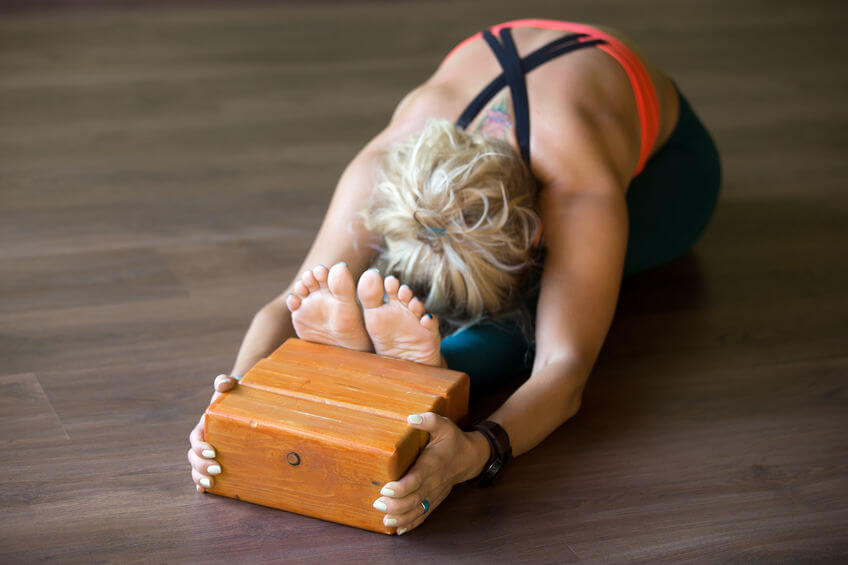 3. Add support
Yoga blocks help a great deal in improving your balance and building strength when you perform advanced poses especially if you have physical restrictions or are uncomfortable doing a certain pose.
They will actually lift the floor towards you and give you more stability and comfort.
4. Activate muscles
Yoga blocks are an excellent way to activate muscles and add a little more burn to classic yoga poses.
Normally, when you exercise a certain type of pose, you put a lot of pressure on your joints, rather than your actual muscles. This is all due to a lack of mind-body awareness and it puts you at a higher risk of injury.
Using yoga blocks in your practice can help you become more conscious of the need to engage your muscles. In "Bridge Pose," for example, you can squeeze a block between your thighs. Instead of overhanging your low back and hyperextending your hips, you will engage your gluteal muscles.
5. Build good alignment habits
It is never a good sign when you feel uncomfortable and you can't breathe in a proper way when performing a certain pose. So, yoga blocks will once again come to your aid here as they can help you with alignment and improve your range of motion.
"Standing Forward Bend" pose, for example, requires you to bend forward from your hips, hold your ankles, or place your hands on the floor. So, if your hamstrings have a limited range of motion, you will not be able to bend forward and reach the floor.
That is where yoga blocks kick in. By resting your hands or the tips of your fingers on a yoga block, you will effectively have a better alignment with the floor.
What to Look for in Yoga Blocks & the Essential Features to Decide to Buy
As previously said, there are many different types of yoga blocks, but most yogis agree that the difference between them is not that significant.
At the end of the day, it really all comes down to how you are going to use the yoga block.
There are different criteria to look out for such as the thickness, size, shape and general material. So, these 4 factors pretty much determine how long your yoga block can last, so let's go over them one by one:
1. Thickness: Soft vs Hard
Generally speaking, most yogis overlook this factor but the thickness of the block has an impact on how you exercise.
For instance, soft blocks are excellent for stretching and improving your flexibility. Hard blocks are more suited for difficult poses that require some physicality.
2. Size
A typical yoga block is usually 9 x 4.5 x 3 inches in size.
The most typical yoga block dimensions are 4′′ x 6′′ x 9′′, although you can buy blocks in many different sizes.
Basically, the size of your hands and level of flexibility will determine whether you need a larger or smaller block. If you have small hands and you often bend when exercising, a smaller block is your best bet.
But, if you have large hands and less flexibility, a larger block is the better choice here.
3. Shape
A typical yoga block usually comes in the shape of a rectangular cube or brick. However, there are now many different shapes on the market, so do not be shocked if you come across a half-circle-shaped yoga block.
There is now an egg-shaped block, for example, which is very good for reclining poses and backbends.
Moreover, hollow semi-circle blocks are more suited for arm balancing poses.
4. Material
The material that your yoga block is made of is very important. It will basically give you an idea of how long it will last, as well as how sturdy and environmentally friendly it is:
Wood
Original yoga blocks were made of pinewood and Japanese Hinoki Wood which were the most durable materials available to yogis at the time. Wood blocks are now built of more environmentally friendly bamboo materials.
While wood blocks are the most durable, they are also the most expensive and difficult to transport due to their weight. They are not portable either and so you have no choice but to leave them at home when traveling or going outside.
Cork
It is also long-lasting and environmentally friendly, which makes it an excellent choice for most yogis.
For beginners, cork blocks are quite comfortable to hold and remain non-slip even when wet or sweaty.
 The disadvantage is that a low-quality cork block can get flaky and crumble over time. But, other than that, they are simple to use and maintain due to their texture and are easy to transport too.
Foam
They are popular among beginner yogis because they are quite cheap and light.
But, they are not that durable and are prone to wear and tear. Moreover, foam blocks are the least environmentally friendly of all the other materials.
How to Use Yoga Blocks?
On hands
Place a block or two under your bottom hand in standing poses like "Triangle," where you have two feet on the ground to help you keep your balance.
Now try to balance yourself on one foot by putting a yoga block beneath your hand.
On other parts of the body
Let's imagine you want to perform a challenging pose such as the "one-handed tree pose" or "scorpion." So, all you have to do is stand on a pair of blocks to raise your hips and let the yoga block do the rest.
Also, you can sit on a block when you are in a meditation session.
10 Best Yoga Blocks for Every Practice (Most Affordable Cork Block Set)
You can use them primarily for restorative poses as they give you more stability. This yoga block has a great texture, is comfortable to the touch, and provides excellent grip and traction during difficult poses. It is made of 100% all-natural recycled cork and is lightweight for optimal alignment.
Pros
Cons
This 4-inch yoga block will certainly appeal to you thanks to its high quality and solidity.  It is comfortable to sit on and has a subtle logo. This yoga block comes in a 2-pack. It is very lightweight and comes with a one-year warranty.
Pros
Cons
High density
Limited edition
This high-quality yoga block features a level of firmness not found in other yoga blocks. The lightweight 4-inch rectangular block weighs only 0.04 ounces while retaining the solidity that cork blocks are known for.
A textured, easy-to-hold surface guarantees a firm grip, while curved edges add comfort to any yoga pose performed. It also has a renewable and biodegradable substance.
Pros
Lightweight
Textured surface
Eco-friendly
Cons
This eco-friendly cork block helps you to properly distribute your weight when performing challenging yoga poses. It is made of high-quality cork and the non-slip substance will last for years to come. The COENGWO yoga block is made of 100% environmentally-friendly cork and has round edges for easy grip.
Pros
Provides extra wrist support
Durable
Cons
Limited selections
Puts your joints under more strain
This 4-inch cork yoga block is eco-friendly and provides a comfortable grip while being slip-resistant and durable. You can use it to deepen stretches and correct alignment. It is designed for yogis of all levels to enjoy a safe and comfortable workout. The JBM block is large enough to sit on (9″W x 6″H x 4″D) and is lightweight.
Pros
Slip-resistant
Eco-friendly
Improves balance.
Extra-large strap
Cons
It will improve your range of motion and do deep stretches. Moreover, this yoga block comes with a variety of different hues to fit your needs. It also includes an additional strap and it has no unpleasant smell, even when you get it brand new. The Heathyoga block is eco-friendly and helps to promote a better alignment.
Pros
Nice package set
Slip-resistant
Cons
This excellent cork block for stretching and demanding yoga poses (9′′ x 5′′ x 3′′) will help you get the most out of your yoga practice. It is made of fine-grained 100% natural and sustainable cork and it has a very soft and non-slippery surface for added safety and support.
Pros
Soft texture
Easy-grip
Environmentally-friendly
Cons
With this firm cork block, you will push yourself to stretch further during your yoga exercises. The Cork Block is a high-performance yoga prop that raises the bar high. It is made renewable and sustainable material. The smooth rounded edges and corners will provide you with extra comfort and make it easier to hold firm.
Pros
Secure and pleasant grip
Can withstand tough conditions
Cons
It has a textured surface with a firm grip while its smooth edges add comfort to any yoga pose you perform. This yoga block is made of eco-friendly cork and thanks to its anti-microbial nature, it has no unpleasant smells and no need for any chemical sprays. The lightweight version of this block is 5mm thick.
Pros
Cons
This yoga block is excellent for a wide range of floors, including gym lino and your living room carpet, thanks to its smooth, non-slip surface.
They're light, so carrying them to class shouldn't be an issue, and they're constructed entirely of natural cork wood, so they're also environmentally sustainable.
Pros
100% Natural corkwood
Sustainable
Cons
Summary
So, whether you are new to Yoga, or you have a lot of experience, I hope that I shed some light on the importance of yoga blocks in this article and how to choose the right one.
No matter what your level is, yoga blocks can be useful. So, what are you waiting for? Give it a try!