Gone are the days when yoga was stuck to the ground. Nowadays, all sorts of items can be used to bring harmony to your inner self. Yoga hammocks are one of them.
Taking part in a practice suspended in the air attracts a certain type of yogi. Let's just say it takes a rare type of confidence to tackle the challenge.
In this post, we're going to give you everything you need to know about aerial yoga hammocks, from what they exactly are to some of the best ones on the market at the moment. Let's get hanging.
What Are Aerial Yoga Hammocks?
Yoga hammocks are quite similar to normal hammocks, only used for different purposes. They're basically a suspended piece of material where users can partake in their yoga practice in creative ways.
Aerial yoga hammocks are used to hold up the body through the process of your yoga practice.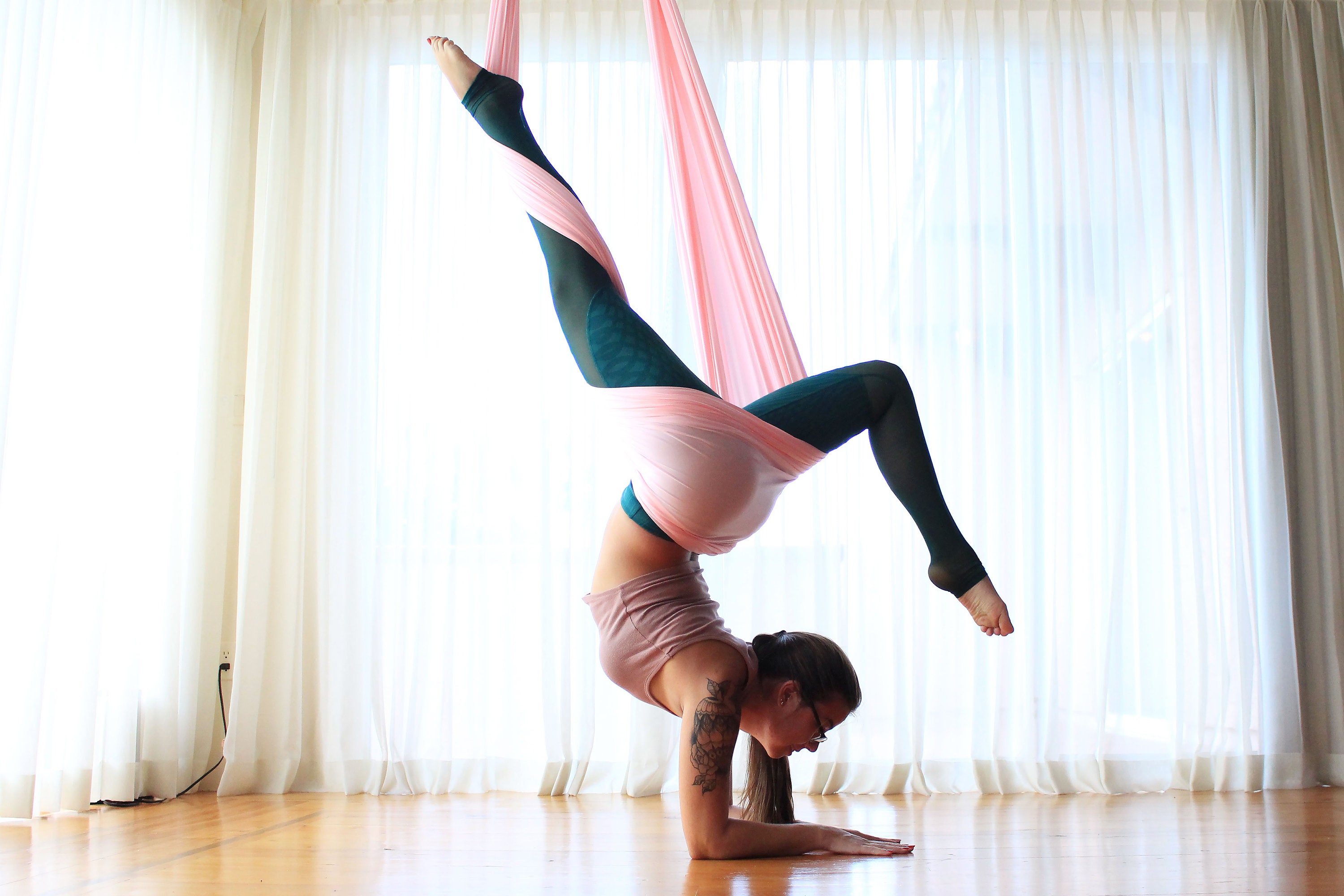 What Are The Benefits Of Using A Yoga Hammock?
There are tons of benefits to using a yoga hammock. See below for some of them.
Improves strength throughout your body – due to the amount of muscle that is used to hold your body in certain stretches, naturally them muscles will gain mass over time, one of them being your core.
Enhances flexibility – aerial yoga hammocks by nature allow you to extend your stretches, which over time will enhance your flexibility
Ameliorates mental health – those who've practiced any form of yoga already knows that it improves your mental health over a period of time. This is because it forces a person to be extremely mindful and live in the moment which then improves a person's mental health as they're not stuck on negative thoughts.
Develops a sense of awareness throughout the body – aerial yoga requires the self to get into a different sense of awareness in comparison to other forms of yoga. This is due to the fact that because you're suspended in the air, you must be full aware of every move you make or else you'll fall. Overtime yourself awareness will improve.
6 Best Yoga Hammocks In 2022
1. Vertical Wise 10m Aerial Yoga Hammock -Best Hammock For Those Looking For Some Height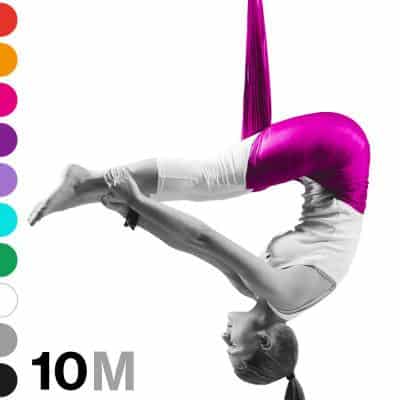 The vertical-wise 10m aerial yoga hammock is a brilliant option for those looking for some additional elevation. With it being a whopping 10 metres in length, users can really test themselves with this one. The hammock's material is manufactured with resistant silk that's pleasing when it comes in contact with human skin.
Some of the key features include :
10 metres in length: Since there's so much length in the vertical wise 10m aerial yoga hammock, you can really mess around with the hammock's height and add some knots to it for you to experiment with.
Wide range of colours: We all know that when purchasing a new piece of gear for your practice, it has to be one that appeals to you. Thankfully, vertical wise 10m aerial yoga hammock can be purchased in multiple colours.
Fabric material: The material that's used to create one of these hammocks is top of the range. Its fabric style makes the experience of using the hammock super comfortable for the user.
Pros:
Easy to set up: This hammock can be simply attached to ceiling hooks in less than two minutes. It's always important to make sure your hooks are strong enough and connected to the ceiling firmly, or else you could have an accident.
Can be used anywhere: The hammock can be used inside your living room or out on your deck, which is ideal for those looking to change up locations as they wish.
Cons:
No handles: Since no handles come with this vertical 10m aerial yoga swing, it can be a little difficult for somebody who is not used to doing their practice without them.
For more experienced yogis: When you factor in the height of the hammock and the fact that there are no handles, it's quite evident that a beginner may struggle with this one.
2. Healthy Model Life Silk Aerial Hammock (Best For Those Who Love To Cacoon)
The healthy model life silk aerial hammock is a high quality, silky soft hammock that assists the user in having a high performance every single time they set out for their yoga practice.
Some key features include –
It comes with a complete kit: The swing comes ready to use upon arrival. All you have to do is attach it to your ceiling when it arrives.
Soft material: The high grade material that is used to manufacture these hammocks is gentle on the skin and makes the movement of stretches a lot more comfortable.
Video instructions: When you purchase one of the health model life silk aerial yoga swings, you'll be sent a DVD with some instructions on how to set it up along with some classes you can try out.
Pros:
Already hooked up: The swing comes hooked up to 2 steel carabiners when you order it, which saves you the hassle of having to set it up.
Ideal for cacooning: There's nothing better than after your practice having a good old cacoon. This hammock's unique style allows users to cuddle up into a little ball and hang there in freedom.
Cons:
No handles: There are no handles on this swing, which will make it hard to use if you've never used one before. There's nothing a few lessons can't do, though.
3. The Everking aerial yoga swing (Best Hammock Overall)
The Everking aerial yoga swing is a really popular hammock on the market at the moment. It's an outstanding quality, super strong hammock that's ideal for those looking to dip their feet into the aerial yoga world to see if they like it.
Key features –
Strong hammock: The material that's used to make this swing is state-of-the-art parachute fabric, which surpasses any other material that swings are made from. So, if you have any fear of your hammock breaking, this is a great option to go for.
Foam Handles: Each of these hammocks comes with 3 soft, cushiony foam handles that are extremely comfortable on your hands. Each set of the handles is placed at a different height, so you can choose how high you'd like to push yourself. You're not just stuck with one option.
Cloth Bag: Are you one of those people who dislikes leaving their swing hanging throughout the day even when you're not using it? We all know that feeling. Fortunately, you'll get a bag with your purchase where you can put your swing in after your practice is complete.
Pros:
Easy for beginners: This is an ideal swing for beginners because of the number of handles that come with it. Handles are extremely useful when beginning aerial yoga because they offer a great deal of guidance for the user.
Great for physical health: The Everking aerial yoga swing prides itself on relieving pain throughout the body, including the neck, back and more.
Cons:
High in demand: It's pretty hard to get your hands on one of these bad boys due to the fact that so many people want them. You'll have to really shop around to get one.
Non stretchable material: As we know, the material that is used to make the EverKing ultra strong aerial yoga swing is really strong, which leaves it with no room to stretch.
4. Prodigy 6m Aerial Yoga Hammock (Best Light Hammock)
The prodigy 6m aerial yoga hammock is an ultra-light swing that's a brilliant option for yogis who are looking to step away from handles and move onto something without them.
Key features –
0 rings: A set of detachable 0 rings is included with the purchase.
Knots: To get the most out of this hammock, knot tying is required, as you'll need something to hang onto. You'll also have to tie the 0 rings if you're planning on using them.
Nylon material: This 6 metre hammock is made of nylon and has about 6% stretch.
Pros:
Can be used with or without rings: Since the rings are detachable, the swing can be used in a couple of different ways, which is great for anybody looking to change up their practice.
Fit for people of all ages: Kids, teens, and adults, regardless of your age, the swing is fit for all ages.
Cons:
Rings can become loose: You must tie the 0 rings properly or else they'll become loose and you might have an accident.
5. Firetoys 6m Aerial Yoga Hammock (Best Hammock In Terms Of Simplicity)
The Firetoys 6 m Aerial Yoga Hammock is a simple piece that does not require a great deal of adjustment. It's easy to set up, comes in a lot of colours, and is ideal for somebody looking for something sweet and straightforward.
Key features:
Made with nylon: This aerial hammock is made with pure prestine nylon and has 10% stretch in it.
Comes with 2 0 rings: Like the Prodigy 6m Aerial Yoga Hammock, the Firetoys 6m Aerial Yoga Hammock comes with a set of two 0 rings.
Wide range of colours: From vibrant pinks to dark blues, there are tons of colours that you can purchase your Firetoys 6m Aerial Yoga Hammock in.
Pros:
Easy set up: Not much effort is required to set up the Firetoys 6m aerial yoga hammock.
Stretch: The Firetoys 6m aerial yoga hammock has 10% stretch, which makes it comfortable on your body.
Made already: When you purchase this hammock, it comes with the 0 rings tied to it already, so you don't have to do any tying yourself.
Cons:
Pricey: The quality may be good, but this swing is not ideal for those looking for something cheap.
6. XPole Arize Aerial Hammock (Best For Beginners)
Last but not least, we have the aerial hammock produced by Xpole. The hammock is made from polyester and has a medium stretch on it. In our opinion, it's a bit of an underrated hammock on the market at the moment. It doesn't seem to be as popular, but it's definitely worth a look at.
Key features –
Polyester material: Since the XPole Arize aerial hammock is made with polyester, it reduces the chance of it becoming crinkly and it will be a lot more pleasurable on your body when doing your practice.
Carry pouch: With your purchase, you'll be given a carry pouch for you to put the hammock inside after you're finished using it, or you may want to take it somewhere else with you.
2 daisy chains: The XPole Arize aerial hammock has 2 daisy chains so you can attach your swing wherever you please.
Pros:
Beginner friendly: Those who are just starting out in aerial yoga will love the XPole Arize aerial hammock. It's known for being a brilliant option for beginners.
Good quality fabric: The fabric on this aerial hammock is of high quality. It almost feels like a cushion.
Reputable company: ​​XPole is a well-known, reputable company that has been in the business of selling yoga products for many years. You're in safe hands when purchasing a product from these guys.
Cons:
Advanced yogis may not be interested: All of the yogi gurus who have been in the game for quite a while might feel as if this hammock has some limits in terms of performance as it's geared more towards beginners.
FAQ'S
Is aerial yoga safe?
Aerial yoga is perfectly safe once you've been trained how to use a hammock properly. If you do want to get into aerial yoga, you're best off seeking help from a professional before you swing into the air.
Can I do aerial yoga if I'm overweight?
Regardless of your weight, you can still take part in aerial yoga. You'll just need a swing that can carry your body weight.
What clothes should I wear if I'm doing aerial yoga?
The best type of clothes you can wear while doing aerial yoga is the same type of clothes you would wear if you were exercising.
How Do You Use A Yoga Hammock?
There are a wide range of ways you can use a yoga swing, but we're going to stick to the most basic way. See below for more details.
Step 1 – Warm up
Step 2 – Sit your buttocks on the swing
Step 3 – Move the swing up towards the upper part of your back.
Step 4 – Begin stretching your head backwards.
Step 5 – Get into a squat position.
Step 6 – Stretch your arms up as far as you can get to the top of the swing.
That's just one way you can use a yoga swing. If you'd like to find out more, click here.
You Tube – https://www.youtube.com/watch?v=qixQsPpzGkQ
What To Look For When Buying A Yoga Hammock
Top quality material
Reputable company
Weight capacity
Right length
Decide whether you want stretch or not
Conclusion
And that's a wrap! After analyzing all of our chosen yoga hammocks, we feel that the Everking aerial yoga swing is our favourite. Between its diversity for every skill level and its value for money, it knocks the rest out of the park. For more details on purchasing one, click here.
We hope by now, your mind is at ease in terms of choosing an aerial hammock. If you have any other hammocks that you'd like to recommend to us, feel free to leave their name in the comments.