One of the most popular yoga props is yoga straps, which may help you reach new heights in your yoga practice by extending and lengthening your reaching. 
Most yoga sessions now utilize D-ring yoga belts, which contain an adjustable metal clasp that can be locked into place. Choose a color that goes well with your mat from the wide range of options.
To learn how to use yoga straps, follow our guides below. 
What Are Yoga Straps?
Yoga straps are a piece of fabric utilized in many forms of Yoga to improve a practitioner's range of motion. These straps are traditionally made from cotton or nylon and range from six to ten feet in length.
While pieces of fabric have always been used in Yoga to help perform more challenging poses, it was only in the 1960s with BKS Iyengar that these straps started to gain popularity in Western Yoga circles. Today, you can find all sorts of Yoga Straps, made from hundreds of different materials and available in all colors of the rainbow.
Today, these Straps allow Yogis to expand their range of motion and make certain poses more accessible. If you are new to Yoga or practicing a pose that challenges your body, using Yoga Straps is a great way to improve your flexibility and practice these more difficult poses.
Why Do You Need Yoga Straps? The Benefits Of Yoga Straps
There are several reasons why you may need to use Yoga Straps.
Firstly, if you are new to Yoga, many of the poses you are asked to do may seem incredibly difficult. This is especially true if you live an otherwise sedentary lifestyle, such as working at a desk. Yoga Straps are a fantastic way to train and improve your body's flexibility while also reducing the risk of pulling a muscle or otherwise injuring yourself.
You should also use Yoga Straps if you are learning a new pose. It is vital when practicing a new pose that you build good habits. If you don't, you could harm your body in the long run. Yoga Straps can help you avoid this by making you focus on your posture and form, not on how far you can stretch.
Finally, Yoga Straps are useful if you are recovering from an injury and need time to build up your range of motion.
Just some of the benefits of Yoga Straps include:
Deeper Stretch: By using Yoga Straps, you can give yourself an incredibly deep stretch. By extending your range of motion, you can stretch your muscles more deeply, improving your flexibility.
Better Posture: Straps help you to keep your posture in a proper position throughout a Yoga flow.
Allows You To Relax: If you have had a long day or are recovering from an injury, using Yoga Straps can give you a little break. By doing so, your body and mind get the chance to recover and relax.
Chance To Practice Advanced Poses: Advanced poses may seem impossible if you are just starting. However, by using Yoga Straps, you can bridge the gap. Straps allow you to practice these advanced poses with support. By doing so, you can develop the flexibility and skills needed for these tougher poses.
Types Of Yoga Straps
There are a few different kinds of Yoga Straps that you should consider if you are interested in using Yoga Straps.
Cinch Buckle Yoga Straps
If you need to extend your reach to practice particular poses, you should look into purchasing a set of Cinch Buckle Yoga Straps. These straps, usually made from cotton, come with a plastic buckle that allows you to adjust how much slack is in the strap. This customizability is excellent and makes these kinds of straps suitable for all body types.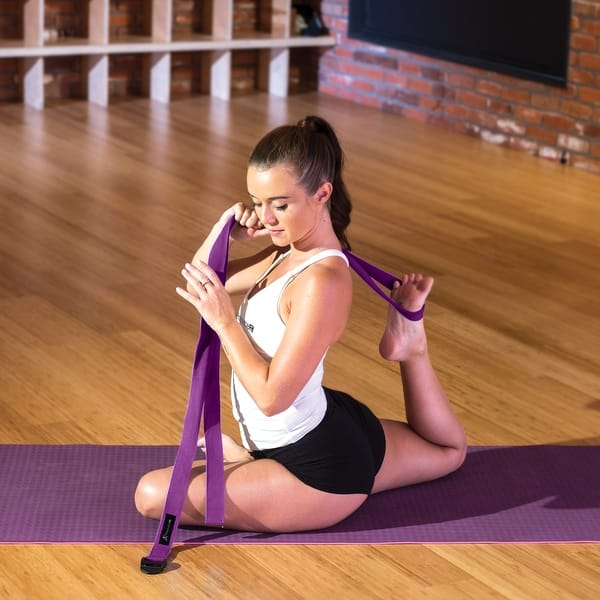 Pinch Buckle Yoga Straps
Pinch Buckle Yoga Straps are similar to the straps discussed above with one key difference. Unlike Cinch Buckle straps, these straps separate the buckle from the adjustment mechanism. This separation increases the stability of the straps and makes them easier to use for some Yogis.
D-Ring Yoga Straps
D-Ring Yoga Straps are probably the most secure type of straps that a Yogi can purchase. These straps loop fabric between a set of metal rings. Yogis can adjust these straps to whatever length they need, making them excellent for highly variable and fluid forms of Yoga.
10 Best Yoga Straps For All Levels
Different Yogis have different needs. For example, if you are new to Yoga, your needs will be highly distinct from an experienced practitioner. Next, we're going to discuss ten different Yoga Straps that are better for various kinds of yoga practitioners.
The Tumaz Yoga Strap is one of the best overall Yoga Straps on the market today. This strap is flexible, resilient, and easy to use, making it great for all sorts of Yogis with various levels of experience. However, these straps can be somewhat expensive (nearly $30) making them one of the most expensive options on the list.
If you are new to Yoga, purchasing a Voidbiov D-Ring Buckle Yoga Strap is an excellent investment. These straps are available in a variety of lengths between 6 and 8 feet. These straps are also incredibly affordable, costing less than 10 dollars for a set. However, if there are any disadvantages with these straps, it is that they may not have the flexibility and customizability that more experienced Yogis may need.
For experts, the Hugger Mugger Yoga Strap is absolutely your best option. These straps are long, starting at 10ft in length, and are easily customizable. The buckle used in this strap is also great for quickly changing poses. However, this is another expensive piece of equipment, costing at least 30 dollars.
If you practice a particularly challenging form of Yoga that can wear down your equipment, you should look into purchasing the REEHUT Adjustable Strap. These straps are made from solid cotton combined with a set of solid metal rings. REEHUT straps are also highly customizable in terms of length and color. However, D-Rings are slightly more complicated to use than buckles, so you may need some practice to make these straps work for you.
SANKUU produces some of the best elastic straps in the world, and this set is especially good. These versatile straps come in a variety of lengths and with 12 large loops. These loops can improve your practice by allowing you to slowly work your way through a challenging pose. One disadvantage of this set is that some Yogis may not enjoy the feel of nylon, making cotton straps a better choice.
For Yogis that do like Cotton Straps, the Prslaaeg Yoga Strap is an excellent option. These straps are solidly constructed, making them great for all practitioners. They are also simple to use and easily adjustable. One problem with these straps is that they are primarily designed to carry your yoga mat, meaning that they are a jack-of-all-trades but a master of none.
This 100% Cotton strap is amazing for giving yourself a deep stretch. The Clever Yoga Strap comes in 8 foot and 10 foot variants, making them perfect for Yogis without high levels of flexibility. Another key advantage of these straps is that they are easy to clean using your washing machine.
If you want to improve your skills and practice more difficult poses, purchasing the Sport2People Yoga Strap may be an excellent option. This set of straps comes with 12 different loops, meaning that you will be able to develop your skills without the risk of injuring yourself. The biggest issue with these straps is the price, meaning they may be outside of the price range for many yoga practitioners.
The Manduka Align Yoga Strap is an amazing way to improve your posture. These straps give you the chance to develop your posture by allowing you to focus on technique, and not on stretching as far as you can. These straps are also rocked solid, meaning you can practice confidently without risk of injuring yourself.
Finally, if you need to develop your strength, the Peace Yoga Strap is one of your best options. This set of straps come with several different loops. These loops allow you to get a solid grip, which will improve your strength over time. One of the main advantages of these straps is that they are lightweight and easy to transport.
How To Choose The Best Straps For Yoga
If you are planning to buy some Yoga Straps in the near future, keep at least some of the following features in mind when making your decision.

Material: The material your yoga straps are made from can influence how much you enjoy using them. For example, cotton straps are easier to clean and provide good grip but may not last as long as nylon straps.
Eco-Friendly: Different materials have different effects on the environment. Cotton will break down given enough time. However, artificial materials such as nylon may take decades or even centuries to fully break down.
Stress-Free Stretching: Certain materials may feel better in your hands than others. For example, nylon may feel somewhat artificial, while cotton may put some strain on your palms.
Length/Size: If you are a Yogi with shorter arms or legs, you may need longer Yoga Straps. Straps are traditionally about 6 feet in length. However, you can purchase straps as long as 10 feet long.
Buckle: Certain yoga straps include buckles or something similar. These buckles can make certain poses more stable, though they are less flexible than straps without buckles.
Price: Yoga straps are not particularly expensive compared to other pieces of equipment. However, higher-quality pieces of equipment may cost more depending on the length of the straps and the materials used.
How to Use Yoga Straps?
There are a few ways to use Yoga straps that you should try when you first buy a Yoga Strap. However, before you use your straps, make sure to examine them thoroughly so you understand how they work and make sure there are no defects.
If your straps are in good condition, there are a few ways you can use them to improve your Yoga practice.
Improving Posture: If you have developed some bad habits while practicing Yoga, using straps can be a great way to get yourself back on track. By using straps, you give yourself the chance to focus on developing good technique, not just on extending as far as you can.
Extending Stretches: While you can use straps to develop techniques, they are also a great purchase if you want to develop your flexibility. Straps allow you to stretch out further than you usually could by giving your body extra support. Straps are, therefore, a great way to improve your flexibility.
Exploring New Poses: Finally, yoga straps are a fantastic way to explore new, challenging poses. Straps give you the confidence to explore new poses by giving you a level of support. As well as this benefit, straps reduce the chance of injuring yourself because you won't need to overstretch to perform more difficult poses.
Yoga Straps Cleaning and Care
The way to care for your Yoga Straps varies based on the material they are made of.
The best way to wash most yoga straps is: Place them in the washing machine in a cold setting or wash them by hand. If washing by hand, use hot and soapy water. Regardless, once you have washed your straps, the best way to dry them is to hang them outside. You can use a dryer. However, you run the risk of shrinking your equipment if you do so.
Washing is not the only thing you must do to protect your yoga straps. Storing your straps is also important. Do not store your straps when they are still wet. Once your straps are dried out, store them in a cool, dry place to avoid mold growth.
Conclusion
As you can tell, several benefits come with using Yoga straps. Straps make it easier to perform more advanced Yoga poses. As well to these benefits, Yoga Straps allow you to relax while also improving your posture. You can also buy straps in a variety of different materials, colors, and other features.
If you have used Yoga Straps in the past, or are using them now, we would love to hear from you. Make sure to comment down below with your experience and insight.