Yoga trapeze stands are a new and innovative way to do yoga. They provide an aerial yoga experience that is both fun and challenging. They are great for beginners and experienced yogis alike, providing a unique opportunity to work on your Yoga practice from a new and exciting perspective.
There are various yoga trapeze stands available on the market, so it is important to choose a well-made and stable one. Of course, there's more to know, and we'll cover all the details in this guide to choose the best yoga trapeze stand.
What's a Yoga Trapeze Stand?
A yoga trapeze stand is a piece of equipment used in a yoga practice consisting of a suspended bar designed to support your weight as you move through various poses and stretches. 
This type of stand is typically raised several feet off the ground, allowing you to lift your entire body weight while you hold various poses. The unique design of these stands makes them an excellent tool for increasing strength, flexibility, and balance. 
They are also ideal for those who may be new to yoga or have physical challenges that limit their range of motion and flexibility. Whether you're a seasoned yogi looking for an additional challenge or a beginner hoping to start your practice in a supported environment, a yoga trapeze stand can help you get the most out of your practice.
Benefits of Yoga Trapeze Stands
Yoga trape stands are a device that provides several benefits to anyone from beginners to masters. First and foremost, these stands provide an excellent way for yogis to tone and strengthen their core muscles. 
By engaging the front and back muscles of the abdomen, you can build greater overall strength and stability. In addition, yoga trape stands help improve flexibility and balance, and coordination. 
If you're looking for a versatile piece of equipment that can take your workout to the next level, then a yoga trapeze stand is what you need.
Types Of Aerial Yoga Swing Stands
Aerial yoga swings are a relatively new form of yogic practice that utilizes specialized stands to support the swing. 
There are several different types of swing stands available, each catering to a specific aspirational yogi or yogini. For example, some stands are designed for more vigorous forms of practice, while others are purposefully more stable and secure. 
Additionally, many of these stands feature additional accessories such as padded mats or handles, allowing you to set up your swings anywhere and customize the experience according to your needs. 
All things considered, there is sure to be an aerial swing stand that meets your needs and helps you achieve your fitness goals.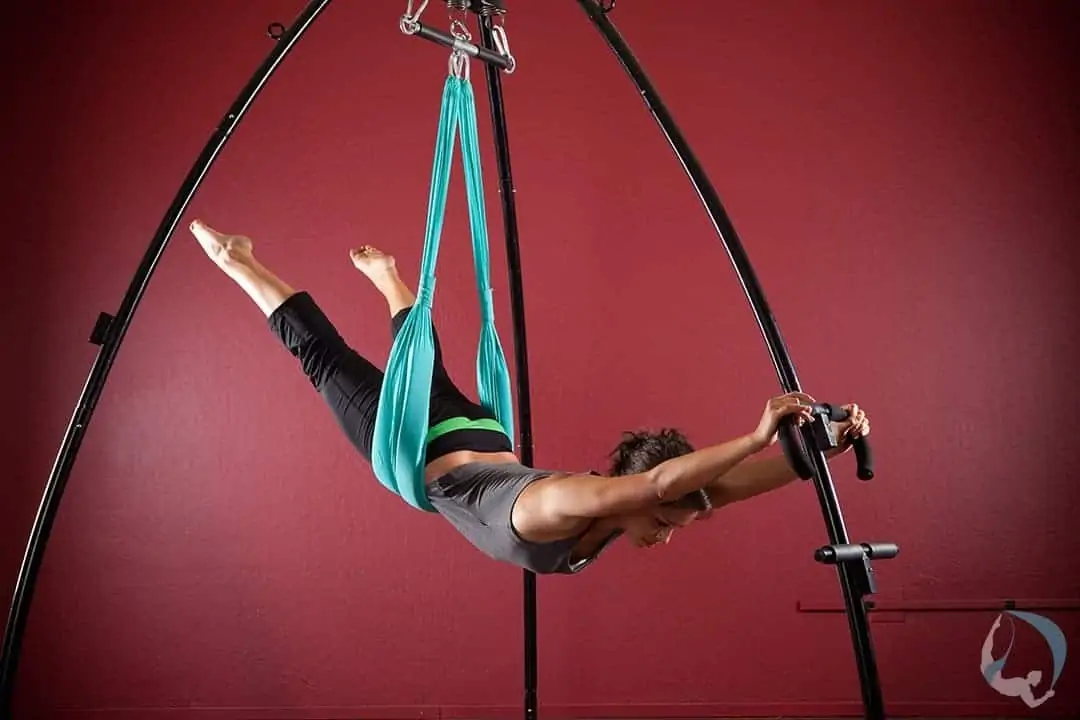 Top 7 Best Yoga Trapeze Stands Compare Chart
Using a yoga trapeze stand is a unique way to help you in doing yoga poses and exercises in the air. But what about the best ones on the market? Let's find out.
The Uplift yoga trapeze stand is the top premium choice. It's made of stainless steel, adjustable, and comes with a carrying bag for easy portability. Aerial silks, static yoga trapezes, aerial hoops, and yoga hangings can all be used with the A-frame design.
The legs are telescopic, allowing you to change the height indoors and outdoors. It also includes easy-to-use locking pins that don't require screws or tools to install or adjust.
Last but not least, it can hold up to 310lbs for regular Aerial yoga use, and we couldn't recommend the Uplift Active trapeze stand anymore!
Happybuy yoga sling inversion is a great way to improve your strength, flexibility, and balance while relieving stress and tension.
This unique exercise utilizes gravity to decompress the spine and realign your posture, helping to reduce pressure on your vertebrae and surrounding muscles. In addition, by inverting at various angles, you can target different body parts, engaging different muscles in your legs, arms, back, and core.
The structure is incredibly stable, and it includes safety belts to keep everything in place as you travel. Overall, this is a fun and effective way to get in shape and reduce stress, be sure to try out the Happybuy trapeze stand!
The YOGABODY yoga trapeze is a revolutionary new piece of equipment that allows you to get an effective and fun full-body yoga workout right at home. Designed by expert yogis with over 15 years of experience, YOGABODY created this impressive trapeze stand for challenging yoga sessions.
Featuring an adjustable bar and easy-to-install mounting straps, the Yoga Trapeze can be mounted in a few minutes only. It will improve your flexibility, build strength, and relax after a long day, and we can't recommend it enough.
All in all, the YOGABODY yoga trapeze is the perfect tool for any yogi or fitness enthusiast, and it's a user-friendly device for beginners.
The KT Indoor/Outdoor yoga trapeze stand is a great addition to any yoga practice. The stand is made of sturdy steel and can be used both indoors and outdoors. It is easily assembled and disassembled, making it perfect for carrying it around. 
The stand includes two hanging loops, two handholds, and two-foot loops. The loops are adjustable, so you can customize your workout session. 
The KT Indoor/Outdoor yoga trapeze stand is a great way to add variety to your yoga practice. It is also a great way to challenge yourself and build strength, and you should definitely give it a try. The stand is also equipped with a stabilizing bar, which helps to keep the stand secure while you are practicing.
The Omni Stand for Yoga Swings is the perfect way to add a touch of style to your yoga practice. Made from high-quality materials, the stand is designed to provide a stable and sturdy base for your yoga swing. 
The Omni stand is a great way to get started with aerial yoga. This stand is made from heavy-duty steel and can hold up to 300 pounds, making it perfect for anyone looking to get started with aerial yoga. 
The stand is easy to set up and use, making aerial yoga accessible to everyone. The sleek and modern design is sure to complement any home décor, which certainly adds a layer of appeal. 
To sum up, the Omni Stand is a new way to spice up your yoga routine and it's the perfect choice for both novices and master yogis.
The X-Pole A-Frame is a popular option for fitness enthusiasts, and we can easily see why. Designed to provide optimal support and flexibility, this high-quality pole features durable poles with smooth edges that allow users to gracefully maneuver and spin. 
Apart from that, the A-Frame replaces two traditional poles, cutting down on space requirements without sacrificing stability or performance. 
Made from sturdy materials, it can be installed easily by following the included instructions. It's worth noting that the X-Pole A-Frame weighs 72lbs, which can be a lot for some users. 
But, as a whole, the X-Pole A-Frame is a must-have piece of equipment that will help you reach unparalleled levels of skill and athleticism.
The KT Dedicated Stand Frame for Aerial Yoga is a unique and versatile piece of equipment that can be used for a variety of yoga and fitness activities. The stand is made from durable steel and can hold up to 440.9 lbs, or 200 kilos.
The KT Dedicated Stand Frame for Aerial Yoga is a great way to add variety to your yoga practice or workout routine. With the stand, you can perform traditional yoga poses, as well as more advanced moves that require balance and coordination. The stand is also adjustable, so it can be easily customized to fit your needs.
The stand can also be used for other fitness activities, such as Pilates and calisthenics. Whether you are a beginner or an experienced yogi, the Jalal Aerial Yoga Stand is a great way to take your practice to the next level.
How To Buy Yoga Trapeze Stand?
When shopping for a yoga trapeze stand, there are several key factors to consider. First and foremost, you should think about the type of material that the stand is made from. Generally speaking, stands made from high-quality steel or other strong metals will be both durable and stable, making them ideal for long-term use.
Additionally, most stands are constructed with adjustable heights, so you can choose exactly how high you want your stand to sit in order to accommodate your own body size and flexibility level.
To further personalize your yoga experience, look for stands that can support a range of different weights as well as those that offer additional accessories like comfortable cushions or carrying bags.
Overall, when buying a yoga trapeze stand, make sure to do plenty of research in order to find the best product for your needs and budget.
How High Must a Yoga Trapeze Stand Be?
The height of a yoga trapeze stand should be determined by the user's height and the type of yoga trapeze that is being used. For example, if the user is tall, they may need to use a taller yoga trapeze stand in order to be able to reach the bar.
On the other hand, if you are shorter, you may be able to use a shorter yoga trapeze stand. The type of yoga trapeze also affects the height of the stand. For example, a freestanding yoga trapeze will need to be taller than a wall-mounted yoga trapeze.
In general, the height of the yoga trapeze stand should be such that the user can comfortably reach the bar while standing on the ground.
How to Build A Yoga Trapeze?
A yoga trapeze is a versatile tool that can help you to deepen your practice and achieve poses that might otherwise be inaccessible. If you're unsure about purchasing one, you can also build one to make it just as you imagine it.
The first step is to find a suitable location. Look for a place with plenty of space and good ventilation, as you will be working with fabric and metal rods. Once you have found a suitable location, plan out the dimensions of your yoga trapeze and mark the area with chalk.
Then, use a tape measure to mark the center of the area, and mark out the four corners of your square. Next, gather your materials. You will need a bridge, rods, connector rods, screws, and 2 Allen wrenches.
Once you have all of your materials, it's time to start assembling your yoga trapeze. Connect the connectors to the bridge, placing 2 in front and 2 at the rear.
Then, connect the rods to the connector rods and make sure your yoga trapeze stand's feet are firmly fastened with fasteners to your work area's floor. Check for any weak links in your yoga trapeze stand, especially its feet. And that's it! Your yoga trapeze is now ready for use.
Conclusion 
Yoga trapeze stands are a great way to improve your yoga practice. They come in a variety of different shapes and sizes, so you can find the perfect one for your needs.
Additionally, they are made from high-quality materials that make them both durable and stable. Yoga trapeze stands are also portable, so you can take them with you wherever you go.
Whether you want to deepen your practice or take your yoga skills to the next level, a yoga trapeze stand is an excellent tool in your arsenal. So why wait? Invest in a yoga trapeze stand today and start enjoying all of its benefits!